Newsflash: it's cold.  Though we've escaped colossal snowfalls the chilly temps have definitely kept many of us close to home. I don't know about you but those sprinklings of warm temps have given me a serious case of cabin fever.  Luckily, this weekend has a few cool food events to break anyone's fever:
Saturday
Fantastic Food Fest – Meet local and national chefs like Sara Moulton (for you longtime Food Network fans) and Top Chef Contestant Casey Thompson while sampling tasty treats and trying out the latest kitchen tools.  10 a.m. to 6 p.m. Feb. 10 and 11 a.m. to 5 p.m. Feb. 11, Indiana State Fairgrounds – Expo Hall, 1202 E. 38th St., $16 and up, fantasticfoodfest.com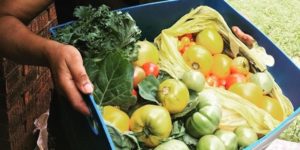 Food Assembly – Kheprw Institute (KI) has been at the forefront of connecting 46208 residents with nutritious food. This event invites people to engage in the process by voicing their food challenges and becoming part of the solution. 2p – 3p Feb. 10th, 3549 Boulevard Place Indianapolis, IN 46208 – Kheprw Institute. Click HERE to reserve your FREE ticket.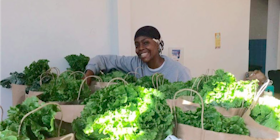 Good Food Feast – Continuing to make a significant impact on the Food Desert of the Northwest side, KI is holding the Good Food Feast. This event is the organization's monthly community "potluck and farm fresh food pickup".  If you've never been, expect to taste some delicious plant-based friendly food, learn from local food champions and experience engaging conversation.  For more information 3p – 5p Feb. 10th, 3549 Boulevard Place Indianapolis, IN 46208 – Kheprw Institute. Click HERE to reserve your ticket for this FREE event.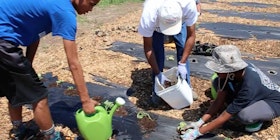 Black Women Farmers: Challenges and Opportunities –KI is going to be busy this weekend, with multiple food events underway. Wrapping up their Saturday night is an event that will give you a chance to hear first hand accounts from African American female farmers in the city. This should be another great event and best of all…its FREE! 5:30p – 7:30p Feb. 10th, 3549 Boulevard Place Indianapolis, IN 46208 – Kheprw Institute. Click HERE to reserve your ticket for this FREE event.
Sunday
  Pogue's Run Grocer have been hosting a series of Meet and Greet events to enhance their outreach to neighbors.  This event is an opportunity see one of Indianapolis' long running Co-ops, try some delicious sandwiches from their buzzworthy deli and of course pick up some eggs and milk while you're there.  Stop by from 5p – 6p Sunday, Feb. 11th Pogue's Run Grocer, 2828 E. 10th St. Indianapolis, IN 46201.  For more information, please visit their website.
This last opportunity isn't exactly an event…more like a deadline.  Pogue's Run is holding board elections and the deadline is THIS SUNDAY Feb. 11th.  If you are looking for a way to make a real impact in a community, you may want to consider throwing your hat in the ring. Now let me say this, serving on a board is not easy work by any stretch of the imagination.  The pay is non-existent, you work pretty hard (in the case of Pogue's Run, you are helping to run an actual business) and you probably won't be able to taste the fruit of your hard labor in the immediate future.
BUT, if you are serious about making an actual difference in the area of food access, you may want to consider this.  If you've never heard of Pogue's, it's nestled in the neighborhood of 10th & Rural (a food desert).  From what I've observed lately, the co-op is refocusing on community outreach so NOW would be a great time to join.
Convinced yet?! If so, find you best headshot, dust off your bio that highlights your food system, food access experience (or aspirations) and answer the following: Why did you decided to commit your time and talent to Indy Food Co-op?  How will Indy Food Co-op and our community benefit from your specific talents and expertise? In your opinion, how is the cooperative business model uniquely suited to address issues with equitable access to healthy food?
Again, applications are due THIS SUNDAY, Feb. 11th.  For more information or to apply, contact: elections@poguesrungrocer.org
Did I miss anything?  What food events are you attending this weekend?